Het werkte een beetje op mij, dat behangpapier in restaurant Lof. Enerzijds omdat ik het - wegens een lichte
Chinoiserie
en
behangpapier
obsessie - herkende, maar niet op de naam kwam. Anderzijds omdat behangpapier mét rapport naar mijn gevoel bij voorkeur met aansluiting wordt geplakt, wat hier duidelijk niet het geval is.
Ergens vreesde ik dat er nog meer fout zat, nadat ik volgende foto's zag.
©
www.etoffe.com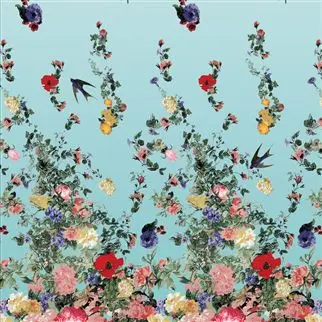 ©
Designers Guild
Gelijk dacht ik aan het verhaal van mijn tafelgenoot over ondersteboven gehangen bamboe behang, tot ik op
deze laatste site
volgende verduidelijking vond:
"This superb digitally printed panel design can be used either way up. Exquisite flowers and foliage cascade down or reach for the turquoise sky, which gradients subtly from dark to light."
Tja: des goûts et des couleurs on ne discute pas.